Find out how exercise can shave as much as 10 to 12 years off your biological age!

If this isn't enough to inspire you to tie on your sneakers and work up a sweat, nothing will. People who maintain aerobic fitness as they get older can actually delay biological aging by up to 10 to 12 years, according to a study from University of Toronto in Ontario, Canada.

What is aerobic exercise? Aerobic means "with oxygen," so aerobic exercise is exercise that improves oxygen function and metabolism, such as walking, running, swimming, bicycling or jumping rope. Weight training is anaerobic exercise.

HealthDay News reports that as we age we experience a decline in maximal aerobic power that is first noticeable in middle age and decreases by measurable amounts every decade. When it falls far enough, doing any activity is difficult without major fatigue. For example, a sedentary man who is 60 years old has maximal aerobic power that is nearly half of what it was when he was 20.

However, the University of Toronto research team, led by Dr. Roy Shephard, found this doesn't have to happen. If we maintain aerobic fitness through regular high-intensity aerobic exercise, we can actually increase our maximal aerobic power by 25 percent, which equals 10 to 12 biological years. "There seems good evidence that the conservation of maximal oxygen intake increases the likelihood that the healthy elderly person will retain functional independence," Shephard told HealthDay News.

Translation: Exercise to look and feel younger.

It's not just about vanity: Aerobic exercise reduces the risk of serious disease and promotes faster recovery after injury or illness. It also helps maintain muscle power, balance and coordination, which reduces the risk of falls, reports HealthDay News.

The analysis was published online in the British Journal of Sports Medicine.
From the Editors at Netscape

These are the top-rated aerobic shoes you can find at Zappos (click on the photo for more details & buying options):



Ryka - N-Gage Studio Mid (White/Silver/Marionberry) - Footwear

The N-Gage Studio Mid offers performance and sleek design. Ultra lightweight trainer for increased comfort. Eyestay molding keeps foot securely locked in place. Breathable tongue keeps your feet cool and comfortable. TPU shank offers midfoot stability. High abrasion rubber outsole provides superior traction on wet or dry surfaces.



Nike - Musique III SL (White/Varsity Red-Metallic Silver-Black) - Footwear

These fitness dance shoes will keep your feet comfortable as you move to the beat. Combination of synthetic leather and mesh upper, for breathability and support. Protective toe overlay. Forefoot is double lasted for durability and strength. Double last Phylon midsole and internal flex grooves keep you comfortable and flexible on your feet. Non marking rubber with medial pivot point for enhanced traction on gym and studio surfaces.



Bloch - Boost DRT Mesh Sneaker (Pink) - Footwear

Built specifically on a dancer's high arch last for true fit, comfort & elegance. The Boost DRT incorporates super lightweight materials and an extensive range of custom designed features to meet the performance needs of the serious dancer. Variable lacing system with custom fit provides support & optimum arch fit. Fully built in arch support & elevation for maximum comfort & feel. Lightweight P.U. midsole provides maximum cushioning combined with a four part high-density P.U. outsole for enhanced flexibility and the correct amount of slide. High density P.U. pivot point allows 360 degree movement and enhanced freedom. D.R.T cushioned heel for maximum shock absorption & comfort. Construction: Combination synthetic mesh and suede upper, PU outsole, air cushion heel. Split sole.



New Balance - WX825 (Grey/Green) - Footwear

With added support for lateral movements and Abzorb EX in the heel, this trainer is perfect when you stray from running with other sports. ABZORB EX in heel is a combination of New Balance's premium Abzorb foam and a peripheral pocket of non-pressurized air that is encapsulated in an engineered thermoplastic. C-CAP midsole lightweight compression molded EVA provides cushioning and flexibility. Blown rubber outsole is lightweight and cushioned. SL-1 last.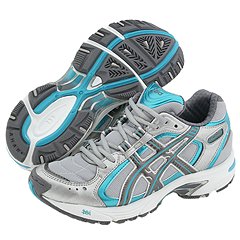 ASICS - Gel-140 TR (Silver/Charcoal/Scuba) - Footwear

Proper trainer that is ideally suited for various cross-lateral activities from lifting weights to playing a bit of tennis!; Synthetic mesh upper creates an environment for your foot that is both comfortable and breathable. SpEVA proprietary midsole material improves bounce-back characteristics and decreases midsole breakdown. DuoMax midsole technology takes the form of a multi-density midsole material designed to help correct the degree and velocity of pronation. ASICS Rearfoot GEL Cushioning System is strategically placed at high impact areas in the rearfoot for shock absorption. Trusstic System exists as a molded component which reduces the weight of the sole unit while retaining the structural integrity of the shoe. Links the rearfoot and forefoot and shores the midfoot. Durable rubber outsole offers superior traction.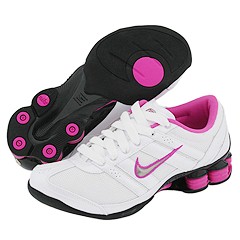 Nike - Nike Shox Electro (White/Metallic Zinc-Bright Fuschia-Black) - Footwear

Designed for fitness dance professionals looking for stability, fit and comfort during their fitness dance activities. Low profile synthetic leather and mesh upper provide support, breathability and durability. 5-column Nike Shox for responsive cushioning. Phylon forefoot and Internal flex grooves in midsole offer lightweight cushioning and flexibility. Die-cut Ortho-lite heel cradle sockliner for added cushioning and support around the heel. Non-marking, spinnable rubber outsole with medial pivot point for turning on gym/studio surfaces.



adidas - MicroBounce+ Arianna (White/Metallic Silver/Rave Blue/Dark Navy) - Footwear

Now you can workout without hurting your poor little feet! The elite MicroBounce+ Arianna trainer absorbs the impact of your entire workout. Perforated synthetic upper cradles the foot and allows for ventilation. Perforated EVA tongue for lightweight comfort and breathability. Textile lining. Molded EVA insole for anatomical comfort. Pre-molded EVA midsole for optimized comfort and cushioning. Multidirectional pattern outsole for maximum traction. Rubber outsole for durability and comfort.