Use a pedometer and you'll lose weight. It's almost a guarantee!
People who strap a pedometer to their belts in the morning and leave them there all day not only get significantly more exercise than people who don't use them, but also they have lower blood pressure and far greater weight loss success. This is especially true for those who wear the pedometers with a specific step goal in mind, such as 10,000 steps for the day, according to researchers from Stanford University.
Specifically, the team found that those who wear a pedometer walk an additional mile a day, compared with those who don't wear one. Pedometers are small, relatively inexpensive devices worn at the hip to count the number of steps walked per day. Although there is not detailed evidence of their effectiveness, they have recently experienced a surge in popularity as a tool for motivating and monitoring physical activity.
Led by Dena M. Bravata, the Stanford team evaluated the effectiveness of pedometer use, reviewing 26 previous studies with 2,767 participants, 80 percent of whom were women. The average age was 49.
The No. 1 finding is that pedometer use increased physical activity, lowered blood pressure and helped with weight loss--provided the user had a specific daily step goal in mind.
Pedometer users...
Significantly increased their physical activity, taking 2,491 additional steps per day than control participants.

Increased their physical activity by 26.9 percent over the baseline.

Decreased their body mass index by 0.38 from the baseline.


Decreased their systolic blood pressure (top number) by 3.8 mm Hg.
More than half of all adults in the United States do not get adequate physical activity and approximately 25 percent do not get any leisure time physical activity. "The costs associated with physical inactivity are high. For example, if 10 percent of adults in the United States began a regular walking program, an estimated $5.6 billion in heart disease costs could be saved," the authors write in JAMA, the Journal of the American Medical Association. "Our results suggest that the use of these small, relatively inexpensive devices is associated with significant increases in physical activity and improvements in some key health outcomes, at least in the short term. The extent to which these results are durable over the long term is unknown."
--From the Editors at Netscape
These are the best-seller pedomoters:

Robic M317 Advanced Pedometer (SET)
Packaged in a convenient 6 pack carrying/storage case containing 1 each of blue, green, purple, red, yellow and orange. Registration stickers are included for assignment of each pedometer. Heavy duty spring loaded clip for secure attachment to clothing. A fold-over, front case designed for privacy and protection. Extra large digits on an oversized LCD make it easy to read the results. Stride sensitivity adjustment for peak accuracy. This multi-function pedometer offers a step counter, as well as the additional benefits of distance traveled, calorie expenditure calculation and a stopwatch for timing. It is ideal for people seeking a variety of performance assessment information. Includes carrying case! Unit of Measure: SET.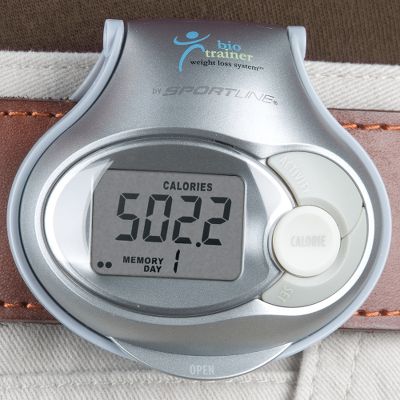 The Accelerometer
More than a pedometer which only measures steps taken, this accelerometer calculates calories burned from physical movements including those that do not require walking, such as gardening, housekeeping, or office work. Similar to technology used by NASA to monitor the movements of astronauts in space, the device only requires you to enter your weight and it uses a precision motion sensor to measure the frequency, duration, and intensity of your movements, and converts this information into calories burned. About the size of a pocket watch, the accelerometer clips to a belt and the hinged face allows you to read the LCD without removing it from your waist, while the nine-day memory feature allows you to track your progress. Includes one CR2032 button-cell battery. 2 1/2" sq. x 1 1/4" H. (1/2 oz.)